'
This website is currently being updated so please be patient till we get it right.
In the meantime, below you will see samples of upcoming or ongoing parish and local events, activities and services
and the menu on the left will give you access to a lot of useful information about our parish.
'
Welcome to the Parish of Firhouse
'
CÉAD MÍLE FÁILTE
'
A warm welcome to all, especially to those who have moved into our parish in recent times.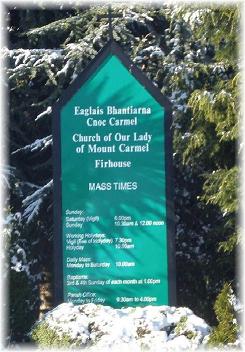 '''
'
More Sad News
We are deeply saddened by news of the death, after a long illness that he bore with great dignity, of Fr. Colm Matthews. Fr. Colm served as parish priest in our parish from 1995 to 2004 before moving to Holy Rosary parish nearby. Having served previously as army chaplain in the Congo and spent time in the mission fields in Chile, Fr. Colm brought many gifts to our parish when he came here. He is fondly remembered by everyone who knew him. Ar dheis Dé go raibh a anam.
'
'
Sad News
We were shocked and saddened by news of the sudden death of Fr. Pádraig Coleman, O.F.M., who served as chaplain in Firhouse parish for 11 years from 2005 until last Autumn, 2016. We were truly blessed to have Fr. Pádraig with us for these years and we miss him since his transfer to Sandymount last September. We offer our condolences to his colleague Franciscans who no doubt miss him too. Ar dheis Dé sa bhflaitheas go raibh a anam.
'
Fr. Pádraig's funeral Mass took place at 10.30.a.m. on Monday 24th April in the Church of the Immaculate Conception (commonly known as Adam & Eve's Church) Merchant's Quay, Dublin and was followed by burial in Shanganagh Cemetery.

'
Upcoming Activities/Events
'
'
Walk at Dawn
Walk at Dawn, Firhouse - Saturday 6th May 2017 at 5.00.a.m in aid of "See Change" Jigsaw, Green Ribbon for youth mental health. This walk will start and end at the Tree of Hope beside Our Lady of Mount Carmel Church, Firhouse. Anybody intending to walk on the morning, would you please call to the parish office this Saturday morning, 29th April, between 11.00.a.m. and 1.00.p.m. so we can provide Green Ribbons, take names and accept donations. Thank you.
'
'
Gárda Vetting Blitz
"V-V" Day for Gárda Vetting of Volunteers: After all Masses on the weekend of 29th/30th April our safeguarding representatives will be in the room at the back of the church to help parish volunteers check whether they need to be Gárda vetted/re-vetted and if they do, to give them the vetting forms and information page necessary for this. Parish volunteers who need to be Gárda vetted can then conveniently return the completed forms and other necessary documents either after 6.00.p.m. Mass on Saturday, 6th April or after 12.00.p.m. Mass on Sunday 7th April and have them copied and signed off by Fr. Peter.
'
'
Safeguarding Information Meeting
"Knowledge is Power":
All parish volunteers, regardless of whether they deal directly with children or not, are now required to attend one safeguarding information meeting. For any volunteers who were not able to attend one of our three previous safeguarding information meetings, and because this is urgent, there will be one more such meeting on Wednesday 10th May at 8.00.p.m. in the church.
'
'
'Weekly Eucharistic Adoration continues
We have Eucharistic Adoration every Friday for one hour from 10.30.a.m. (after 10.00 Mass) till 11.30.am. All are welcome for quiet prayer.
'
Monday Evening Rosary for our Young People's Faith
Monday evening Rosary: Concerned about reluctance of many young people to embrace the faith? If so, please join us on Monday evenings at 6.00.p.m. in the Carmelite Convent, Firhouse Road to pray the Rosary for this special intention. It will take only 15 minutes or so. All are welcome.
'
Bethany Bereavement Support Group
Have you been bereaved by the loss of a loved one? Firhouse Bethany Bereavement Support Group is holding a series of open meetings for bereaved persons on the 3rd Monday of each month from 7.30p.m. to 8.45p.m. Enquiries about these meetings or any other aspect of the work of the Bethany Bereavement Support Group: Parish Office 01 4524702 or Bethany member: 087 2852647
'
Parish Choirs
Rehearsals continue each Wednesday at 7.30 in Scoil Carmel. New members urgently needed. There have been no new members for almost two years, and some have retired, so the message is very clear! Contact Ray at 087-9195012. Also, see below.
Do you play an instrument? If you play the guitar, fiddle, accordion or indeed any instrument you are invited to play with the parish choir on Sundays. Contact Ray at 087-9195012 for more information.
The voice of angels! The wonderful Parish Children's Choir resumes singing at the Vigil Masses at 6.00.p.m. on Saturday evenings, led by Martina. A rota of kind volunteers is always present, and necessary in a supervisory/safeguarding role at rehearsals - on Saturdays at 5.00.p.m. for the 6.00.p.m. Mass. New members are always welcome to this choir. Any parent whose children would like to sing with this Choir - please contact Martina through the Parish Office at 01 4524702.'
'
'
Can You Help?
'
'Copper Collection
"Take care of the pennies (or cents) and the pounds (or Euro) will take care of themselves." To help Parish Finances painlessly why not bring loose copper coins that are gathering (and gathering dust) in your home to the Parish Office or Sacristy for our Copper Coin Collection any time. Thank you.'
'
Church Gardens/Courtyards
A helping hand or green fingers? Could you help clean tidy and if you have even slightly green fingers help restore the four church gardens/courtyards to their original Four Seasons themes. Join us on Monday or Thursday after 10.00.a.m. Mass.
'
Church Cleaning
"Many hands make light work." Could you spare an hour on Tuesday mornings after 10.00.a.m. Mass to join our volunteers who hoover and shine the church? All you need to do is show up and get busy. You will be made very welcome.
'
'
Recent Activities/Events
'
Events for Lent
'
Stations of the Cross - Each Wednesday of Lent, after 10.00.a.m. Mass we had the traditional Stations of the Cross in the church. While we all "fall short of the glory of God," Jesus, who never sinned, was still prepared to endure huge suffering in atonement for our failings. The Stations describe that suffering. They indicate just how much God loves us and by meditating on them they helped us to realise this. Being aware of this can change lives for the better. Sincere thanks to those who led us so wonderfully in the Stations each Wednesday.
'
Lenten Reflection ("Lectio Divina") - There was a Lenten service with quiet prayer time and some shared scripture readings and reflections on Monday nights during Lent. This took place in the meeting room behind the altar in the church, from 8.00.p.m. to 9.00.p.m. each Monday. Lectio Divina is a simple easy spiritual exercise for a group where we (a) read, listen to and reflect on a text from God's Word in scripture (b) perhaps share with the group whatever strikes us from the text but even if we do not be inspired by what strikes others (c) consider what the text meant for Jesus' disciples and listeners 2,000 years ago and (d) consider how it might apply to our lives today. We hope those who attended each week found it beneficial. We think they did.
'
Charismatic Renewal Golden Jubilee'
Golden Jubilee of Catholic Charismatic Renewal - The Golden Jubilee of Catholic Charismatic Renewal is happening around now. Many people's lives have been touched in a very positive way by Catholic Charismatic Renewal. To mark this fact, we here in the Parish of Our Lady of Mount Carmel, Firhouse, hosted 'An Evening of Praise and Thanksgiving' on Friday, 17th February, beginning at 7.30 pm, ending with the Celebration of Mass. This event was organised by the Dublin Diocesan Service Committee for Catholic Charismatic Renewal in Ireland. All were invited to partake, to come along and bring a friend. It was indeed a night to give God thanks and praise.
'
"Yes to Life"
Yes to Life visits Firhouse - On Monday evening 20th February two representatives of "Yes to Life" gave a really good interesting presentation, lots of accurate information, clear compassionate answers to hard questions and a strategy and free materials to help defend the lives of mothers and babies. The event, in the room at the back of the church, was not well attended but those who were there were enthusiastic and found the event very enlightening. Perhaps you will be hearing from them in the near future - there is a lot at stake.
'
Thank You to our Volunteer Distributors!
A big thank you
to all the volunteers who distributed Christmas information packs to homes around the parish last week. In order to get them out early some volunteers delivered them to homes in
three or four streets, not just their own. We really appreciate this extra effort.
"Walk into The Light"
ARE YOU CARRYING HEAVY BURDENS? Do you sometimes struggle to cope with daily life?
On Sunday evening, 18th December at 7.30.pm. Firhouse Parish hosted a special family event. Parents may worry about many things like work/the lack of it, mortgages/the cost of living, relatives/friends who are ill, their children and what they may face in the world today, choices made that may have worked out badly . . . Teenagers and children may have real challenges in school, in relationships with family and peers, with the constant bad news from TV, the negative side of social media, what the future holds etc. Such things can wear us down, no matter what our age and can even lead to poor health, especially if we feel unable to share them with someone who cares. But we are not alone . . . Did you know that a burden that seems like a boulder to you is not even a pebble to God and that you could leave all your burdens with the Lord. Jesus himself said: "Come to me, all you who are weary and burdened, and I will give you rest. Take my yoke upon you and learn from me, for I am gentle and humble in heart, and you will find rest for your souls. For my yoke is easy and my burden is light." (Mt 11:28-30).
Each family in the parish was invited to do the following: Find a pebble to symbolise all the burdens you or your family are carrying. Over a bite to eat, call to mind quietly (or, if it suits, discuss together as a family) the burdens or worries each one has. Use the pebble to represent these and choose one person to carry it. Wrap up well and set out walking together if possible, as a family, carrying the pebble to our parish church, which was welcoming, warm and bright on that winter's night. Those who came then had the opportunity to rest a while in quietness before the Lord, to lay before Him all your burdens and ask for His help. After some quiet time, some reflections and some gentle songs one person was invited from each family to place their symbolic stone in a basket at the foot of the cross. People were free to leave after this but were invited to stay a while with the Lord if they wished.
i
Evening of Prayer
On Thursday 1st December at 7.30 p.m. we hosted an Evening of Prayer based on the Evening Prayer Programme at the Marian Shrine of Medjugorje. There was a time of praying the Rosary, Celebration of Mass, Eucharistic Adoration including Prayer for Healing and Blessing with the Blessed Sacrament. Some of the Official Guides in Medjugorje were with us and there was a talk from them about the Marian Shrine of Medjugorje.
'
The "Alpha" Course completed
An 8 week course for spiritual renewal - to help people make the transition to a vibrant, active, adult Christian faith. This course ended on Tuesday evenings 29th in the Iona Centre, Knocklyon.
'
"The Gift" - A Life in the Spirit Course completed
A 7 week course to help people encounter the Holy Spirit and experience the power of God in their lives. This course ended on Monday evening 21st November in Scoil Treasa - opposite the Church.
'
Sad News
'
At Mass on Monday 14th November Fr. Peter announced the sad news of the sudden death in Kenya of Fr. Martin Murnaghan. Fr. Martin retired from parish work in Sandymount this autumn and came to live in Firhouse. From here he went to Kenya just a few weeks later to undertake six month of active ministry. He hoped to do this each year God gave him the health and the energy. He was not in active ministry in Firhouse but he helped out when he could for the few weeks he was with us and in that time his gentle demeanour and winning smile endeared him to us. We were looking forward to his return in April. While he hoped to complete six months in Kenya and then return to Ireland, clearly the Lord had another plan and called him home, not to Ireland but to Heaven itself. We offer our condolences to Fr. Martin's family on their loss and to the people of Sandymount, his last parish, in their sadness. Ar dheis Dé go raibh a anam.
'Fr. Martin's funeral took place on Monday 21st November at 12.00. noon in St. Mary's Church, Haddington Road, Ballsbridge, Dublin 4.
'
Christmas Shoebox Appeal
Giving a little joy and love to a needy child this Christmas? Many parishioners supported the annual Team Hope Christmas Shoebox gift appeal. In Africa and Eastern Europe, Team Hope make it happen for hundreds of thousands of poor children each year, many in families struggling on less than €1 a day. Our shoebox gifts show God's care for them – and bring a ray of hope . . . with lots of excitement and laughter. Thank you to Jackie and Ann and the volunteers who helped make this happen.
'
Bethany Bereavement Mass
A Mass of Remembrance took place at 6.00.p.m. on Saturday November 5th for all those whose funerals took place in our parish during the past year. Deceased family members and friends were also remembered. Conversation over a cup of tea afterwards offered a chance to share experience and to express solidarity with the bereaved. Thank you to our Hospitality Committee for this.
'
Coffee Morning in aid of the Hospice a Great Success
Home baking and hot beverages - Our hospitality committee held a coffee morning in aid of the Hospice, Harold's Cross, on Thursday 6th October from 10.30.a.m. till 2.00.p.m. at the back of the parish church. It was a large and pleasant social gathering for a very good cause, where conviviality was enhanced by the quality of the fare on offer. Hospitality committee take a bow. Thank you again.
'
Pilgrimage to Knock an Inspirational Experience
The national Legion of Mary pilgrimage to Knock took place on Sunday 25th September. As always, people who are not members of the Legion were welcome. Some who travelled were inspired by their travelling companions as well as by the visit to Knock itself. Thank you to our local Legionaries who organised this in our parish. When you read the item below about what the Legion has done for our parish on the weekend of 3rd and 4th September you may even like to consider joining the Legion. For further information about the Legion and what its members do, please contact: Annette 087 2364047 Bridie 4524825 or Ray 4518495.
'
Fork Supper Dance - Ballyboden St. Enda's
An enjoyable night was had by all with music by Derek McEvoy and craic by all and sundry on Saturday 17th September (Eve of the All Ireland football final) in the clubhouse of the All Ireland Club Football Champions. All proceeds, which are very welcome, go to the church refurbishment fund. Sincere thanks to the fundraising committee and to all who helped out on the night, to those who sold tickets for the event, to those who donated raffle prizes in advance and to those who sold raffle tickets on the night and to Ballyboden St. Enda's club for facilitating this event on such an important night in the GAA calendar. Since the All-Ireland final was a draw and therefore there was to be another "Eve of the All Ireland football final" . . .
'
Parish Outreach Home Visitation
What an amazing blessing! On Saturday 3rd and Sunday 4th September about 20 of our parishioners were joined by about 50 members of the Legion of Mary from all over Dublin and as far away as Drogheda, Co. Meath and south of Arklow in Co. Wexford, and set out to visit as many homes as possible to meet and talk with householders and give them a welcome/information pack from the parish.
The pack included a beautiful bookmark that has on it two prayers, parish contact details and two inspiring pictures as well as details of phone apps for bible study and daily bible quotes. In addition the pack includes a page about getting to know Jesus better, details of two upcoming faith renewal courses provided locally and a page outlining parish services (and inviting help).
With the Legion of Mary's help we delivered the welcome/information/invitation pack to over 2,400 homes and spoke with up to 1000 people. We hope this outreach will help many people reconnect with their faith, reconnect with God and perhaps with our parish where they would be most welcome to avail of our services or join in our work or both.
We are immensely grateful to the Legion of Mary volunteers who came to help us "walk the walk" as well as "talk the talk" over the weekend. We are also grateful to our own parishioners who volunteered to do this work, to our own Parish Hospitality & Catering group who fed all the volunteers throughout the weekend and gave them the energy to continue, to the Principal of Scoil Treasa, who allowed us to use the school as a base for the whole operation and to Fr. Peter and the rota of volunteers who maintained continuous Eucharistic adoration in the church throughout Saturday in support of our work on the streets.
'
"From Darkness into Light"
A dawn walk around the outskirts of Firhouse took place in support of local people who have been touched by suicide and to support Pieta House, which has enjoyed local support for several years. It coincided with the national "From Darkness into Light" event. Though organised with less than 48 hours notice it was very well supported. Participants witnessed the dawn and heard the dawn chorus - nature itself offering hope to those struggling with loss. The walk was followed by prayer for those affected by suicide and their families and a collection was taken up and passed on to Pieta House. Thank you to all who supported this event and took part in it.
Successful Fundraiser
Taking the ball "on the hop" a group of parish volunteers reacted to the availability of a pair of Tickets for the All-Ireland Hurling Final by organising a parish fundraiser at very short notice – they decided to conduct a raffle. Tickets were sold after Masses, in the local shopping centre and in Ballyboden St. Enda's clubhouse where the draw was to take place. The upshot was that the tickets went to a worthy winner, a hurler, to tumultuous applause and proceeds went to the church refurbishment fund - a "win-win" outcome. This was not the first time this kind of positive thinking "outside the box" delivered a good outcome for our parish. Thank you to all who bought tickets and helped in any other way.
'

St. Martin Magazine
A wonderful little Dominican publication costing only 80 cent a month.
If you would like a monthly copy, please give your name to the Parish Office, or phone Ray on 0879195012.
Gluten / Wheat Intolerance
Chalice with the Precious Blood for Holy Communion: Unfortunately for anyone with Gluten / Wheat Intolerance the reception of Holy Communion under the species of the Body of Christ (The Host) can have health side effects. To facilitate anyone with Gluten / Wheat Intolerance we now have a separate Chalice with the Precious Blood (Wine) free from any particle of the Body of Christ (Host) available.
Crosscare
Crosscare Connections is a service for people who are alone at home - perhaps an older person, a family carer or a person with a disability who might welcome some company. This service is simply the gift of time and friendship to reduce loneliness and a sense of isolation. If you know of anyone interested in availing of this service - or if you would like to volunteer to visit someone, please call us at 01 4526564.
Crosscare Carer Support Programme offers a safe and supportive space for any person in a caring role.
Our aim is to improve the quality of life for family carers and parents caring for children with special needs. We will run lots of services like local support groups, coffee mornings, stress management and relaxation classes, amongst other things. If you are interested please phone 01 4626564 or email rdaynes@crosscare.ie.
Saint Joseph's Shankill - Caring for Carers
Caring for Carers training courses: South Dublin/Wicklow Saint Joseph's Shankill will run Caring for Carers training courses over the next six months specifically for family carers' in the South Dublin/Wicklow area who look after people living with dementia at home. The training courses will be free of charge. For more information or to register your interest Contact Teresa Tel: 01 282 3000 / 087 234 2420 or E-mail: teresa.mooney@sjog.ie Website: Saint Joseph's Centre www.saintjosephscentre.ie
Men or Women, separated, divorced or widowed - are you coping?
Beginning Experience (B.E.) might help! Few people are able to cope alone with the pain of loss. Do you find that you need more support than family and friends can provide? Seeking help is a sign of strength and self-knowledge – not weakness. This is a healing ministry, which helps to resolve the grief that goes with the end of a marriage or relationship. Coping effectively with bereavement is a skill we can all learn. B.E. ("Beginning Experience") is an organisation that can help by linking you with a team, who are themselves widowed, separated or divorced share their experiences with you. Contact the Parish Office for details.
Third Age - Senior Help Line
Senior Help Line is a confidential listening service for older people provided by trained older volunteers for the price of a local call anywhere in Ireland, LoCall 1850 440 444. Senior Help Line has trained older volunteers to offer a friendly, listening and non-judgmental ear to all callers. Contact the Parish Office for details.