2017 Past Events
'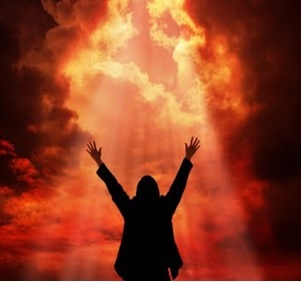 February 2017 - Charismatic Renewal Golden Jubilee
'
Golden Jubilee of Catholic Charismatic Renewal - 2017 is the Golden Jubilee of Catholic Charismatic Renewal. Many people's lives have been touched in a very positive way by Catholic Charismatic Renewal. To mark this fact, we here in the Parish of Our Lady of Mount Carmel, Firhouse, hosted 'An Evening of Praise and Thanksgiving' on Friday, 17th February, which began at 7.30 pm, and ending with the Celebration of Mass. This event was organised by the Dublin Diocesan Service Committee for Catholic Charismatic Renewal in Ireland. All were invited to partake, to come along and bring a friend. It was indeed a night to give God thanks and praise.
'
'
'
'
---
April 2017 - Gárda Vetting Blitz
'
"V-V" Day for Gárda Vetting of Volunteers: After all Masses on the weekend of 29th/30th April our safeguarding representatives were present in the room at the back of the church to help parish volunteers check whether they need to be Gárda vetted/re-vetted and if they did, to give them the vetting forms and information page necessary for this. Parish volunteers who needed to be Gárda vetted were invited to return the completed forms and other necessary documents either after 6.00.p.m. Mass on Saturday, 6th April or after 12.00.p.m. Mass on Sunday 7th April, with our safeguarding representatives present to assist them; and to have them copied and signed off by Fr. Peter. Those who were unable to avail of this facility will need to return the completed forms and other relevant documents to Fr. Peter as soon as possible.
'
---
'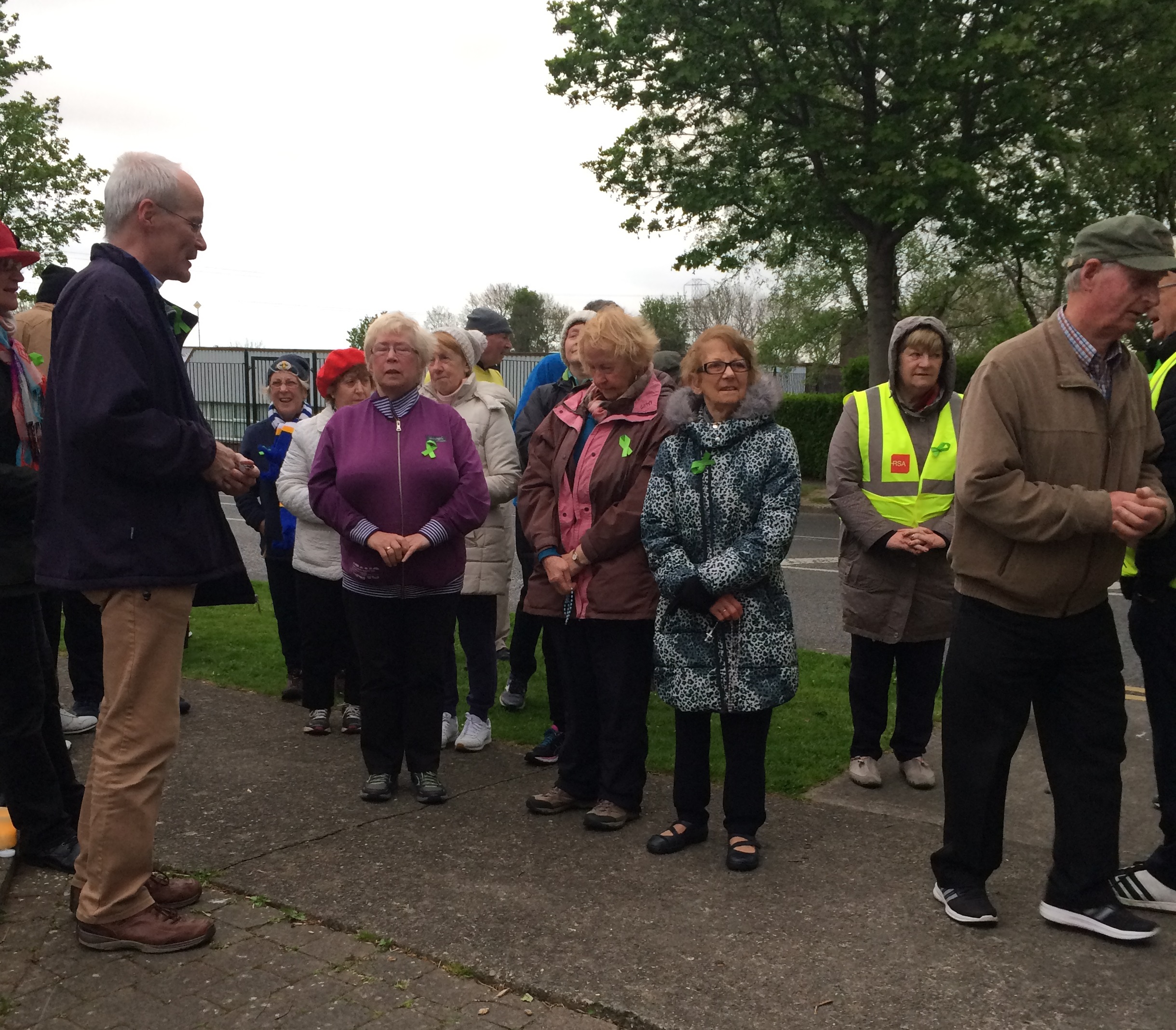 May 2017 - Walk at Dawn
'
Saturday 6th May 2017 at 5.00.a.m in aid of "See Change" Jigsaw, Green Ribbon, for youth mental health. This walk started and ended at the Tree of Hope beside Our Lady of Mount Carmel Church, Firhouse. It was a cool morning so walking was brisk and those who participated enjoyed the exercise. It started with a prayer focusing mental health, depression and suicide and ended with a decade of the rosary: the Resurrection. A big thank you is due to the organisers of this event.
'
'
---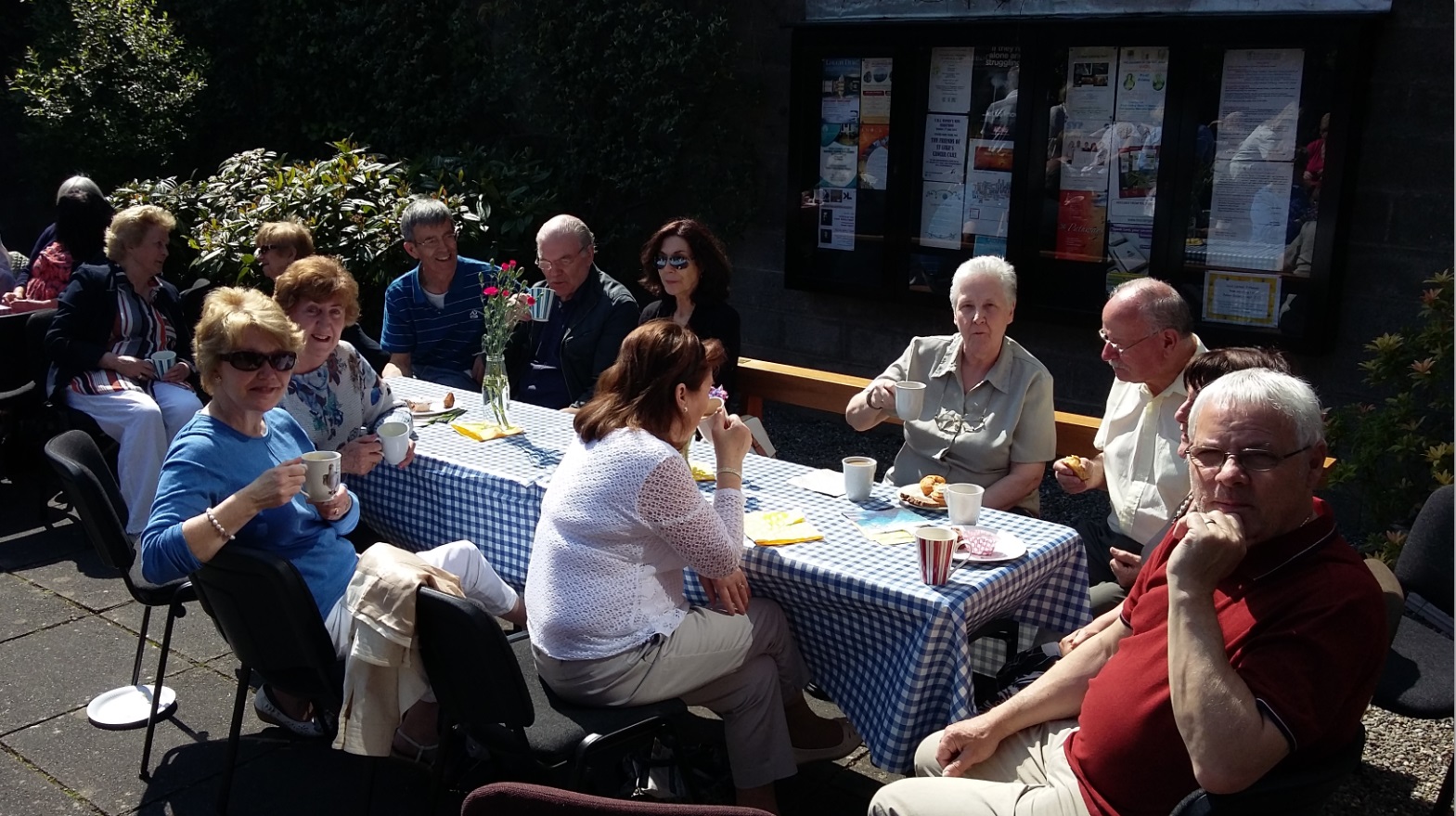 Summer 2017 - Sun-drenched Outdoor Coffee Morning
'
The Hospitality Team organised a most enjoyable coffee morning in aid of the Pink Tie charity associated with Crumlin Children's Hospital.
'
Apart from reflecting Jesus' instruction to love our neighbour as ourselves (fulfilled in this coming together to raise money for a worthy cause) this echoes what is often the forgotten one of four practices of the earliest Christians, as reported in the Bible in Acts of the Apostles, Chapter 2, verse 42, where we are told: "They devoted themselves to the apostles' teaching and to fellowship, to the breaking of bread and to prayer."
Fellowship does not just happen of its own accord . . .
'
From early morning the Hospitality Team were busy with Burcos and Benches, Chairs and Chores, Buns and Beverages. Huge organisation, last minute adjustments, great attention to detail and unbroken sunshine made this endeavour an outstanding success. Most guests opted for the outdoor seating in the courtyard at the main entrance to the church, which features fabulous flora, courtesy of our gardeners and volunteers. There, convivial conversation and camaraderie crowned a wonderful occasion and a great time was had by all, as you can see below. '
'
'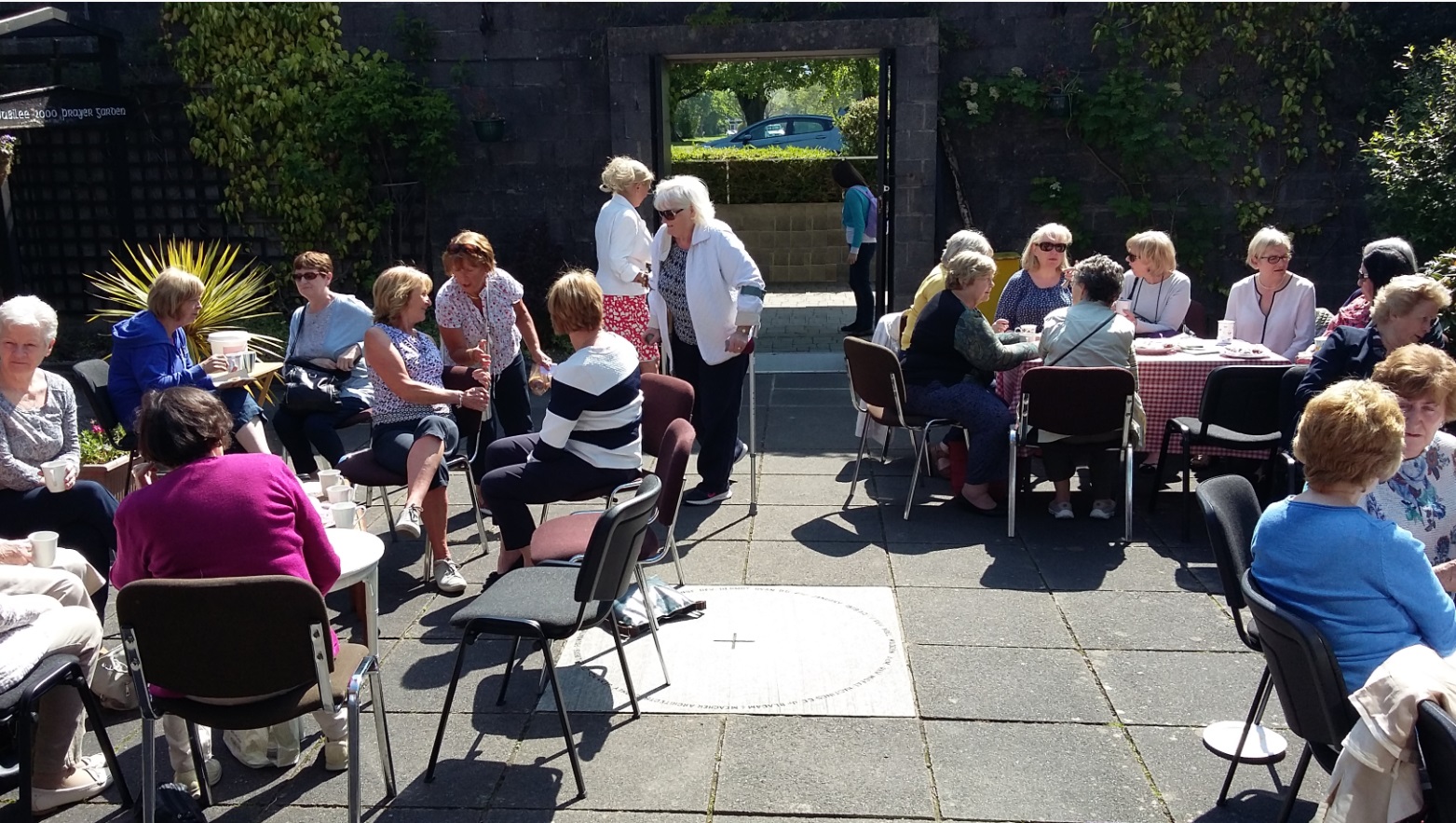 '
Congratulations and thanks to all those involved.
'
'
'
---

September 2017 - Parish Outreach Home Visitation
'
What an amazing blessing! On Saturday 3rd and Sunday 4th September about 20 of our parishioners were joined by about 50 members of the Legion of Mary from all over Dublin and as far away as Drogheda, Co. Meath and south of Arklow in Co. Wexford; and set out to visit as many homes as possible to meet and talk with householders and give them a welcome/information pack from the parish. The pack included a beautiful bookmark that has on it two prayers, parish contact details and two inspiring pictures, as well as details of phone apps for bible study and daily bible quotes. In addition the pack includes a page about getting to know Jesus better, details of two upcoming faith renewal courses provided locally, and a page outlining parish services (and inviting help).
'
With the Legion of Mary's help we delivered the welcome/information/invitation pack to over 2,400 homes and spoke with up to 1000 people. We hope this outreach will help many people reconnect with their faith, reconnect with God and perhaps with our parish, where they would be most welcome to avail of our services or join in our work or both.
'
We are immensely grateful to the Legion of Mary volunteers who came to help us "walk the walk" as well as "talk the talk" over the weekend. We are also grateful to our own parishioners who volunteered to do this work, to our own Parish Hospitality & Catering group who fed all the volunteers throughout the weekend and gave them the energy to continue, to the Principal of Scoil Treasa, who allowed us to use the school as a base for the whole operation, and to Fr. Peter and the rota of volunteers who maintained continuous Eucharistic adoration in the church throughout Saturday in support of our work on the streets.
'
---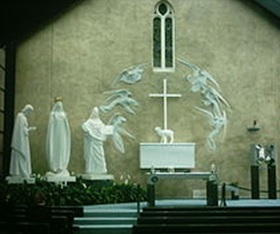 September 2017 - Pilgrimage to Knock an Inspirational Experience
'
The national Legion of Mary pilgrimage to Knock took place on Sunday 25th September. As always, people who are not members of the Legion were welcome. Some who travelled were inspired by their travelling companions as well as by the visit to Knock itself.
'
Thank you to our local Legionaries who organised this in our parish. When you read the item below about what the Legion has done for our parish on the weekend of 3rd and 4th Septembe,r you may even like to consider joining the Legion. For further information about the Legion and what its members do, please contact: Annette 087 2364047 or Bridie 01-4524825 or Ray 01-4518495
'
'
'
---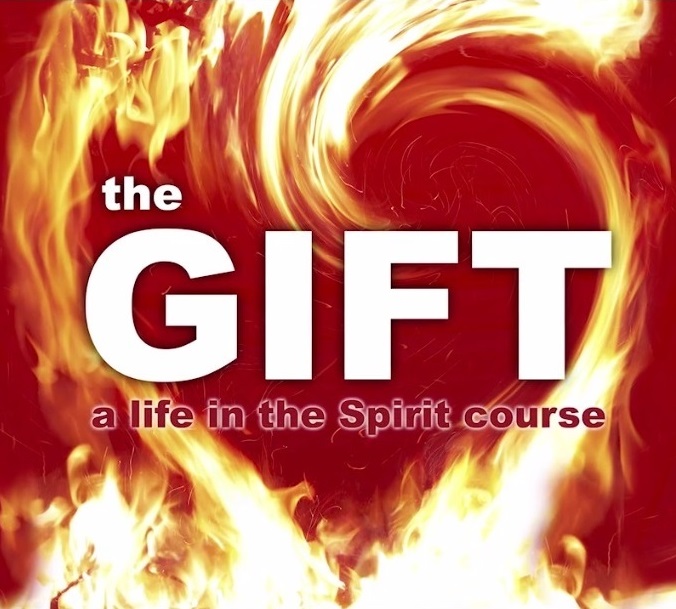 October 2017 - "The Gift" - A Life in the Spirit Course
'
A seven-week course was completed to help people encounter the Holy Spirit and experience the power of God in their lives. This course ended on Monday, evening 21st November, in Scoil Treasa - opposite the Church.
'
'
'
'
'
---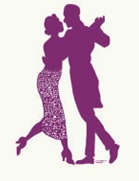 December 2017 - Parish Christmas Party
'
Fork Supper and Dancing to Live Music took place on Friday 8th December in Ballyboden St. Enda's GAA Club from 8.30.p.m. till late. A great night was had by all and spot prizes were being awarded like confetti at a wedding. Thanks to all those involved in any way in organising this parish-community-building event, which takes a lot of foresight and organisation; and to those who provided spot prizes as well as those who came along on the night.
---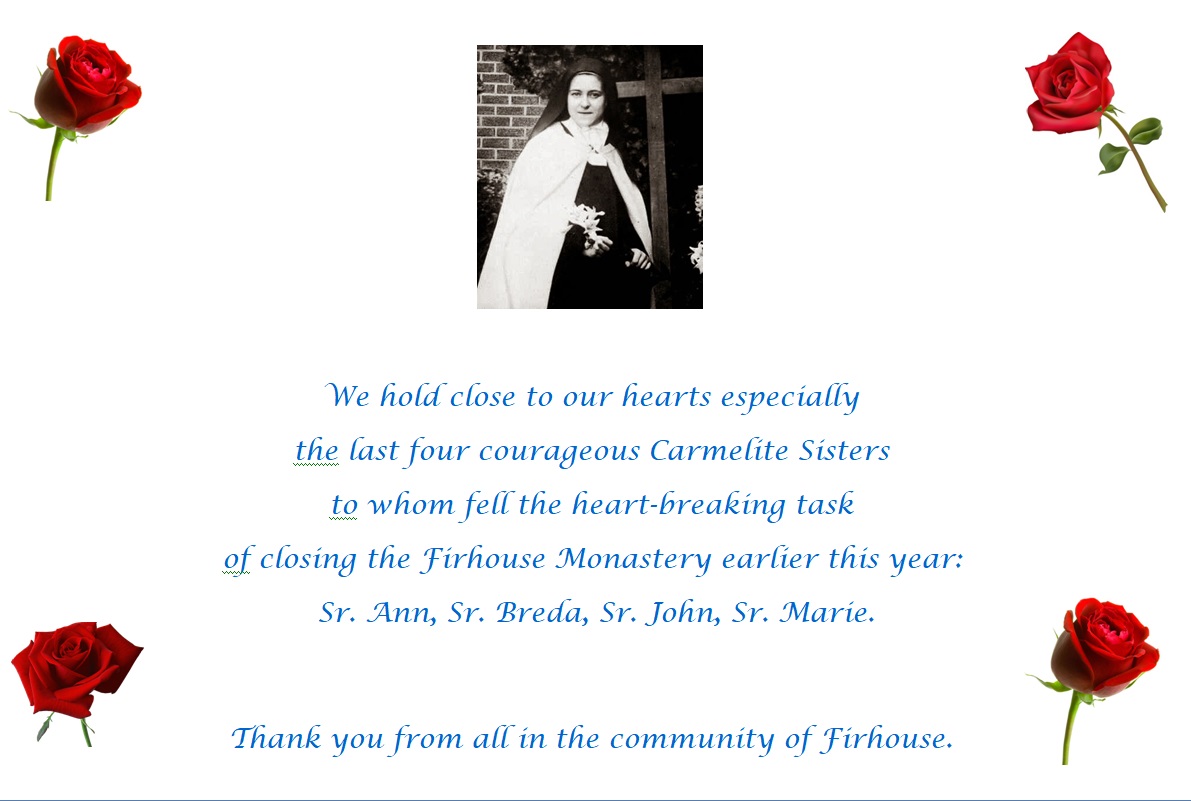 December 2017 - Mass of Thanksgiving for 190 Years of Carmelite Sisters in Firhouse
'
On 10th December this special Mass of Thanksgiving was Celebrated by Bishop Éamonn Walsh in Firhouse parish church.
'
This Mass was attended by some relatives and many friends of the Sisters from Firhouse and much further afield, filling the church to capacity. A bouquet of roses was placed before the altar at the start of the Mass, to commemorate the 55 sisters who had died over the years in the Firhouse monastery. In addition, four roses were placed there representing the four living sisters from Firhouse who now live in other Carmelite monasteries. Tributes were paid to the sisters and the various roles they performed over the years, but particularly to their primary role of prayer, by Richard Flood from the Parish Pastoral Council in his introduction to the event and by Bishop Éamonn in his homily.
'
Over refreshments, provided by the parish Hospitality Group after Mass, many more personal tributes were paid to the sisters by those who knew them. Afterwards attendees, by special arrangement, were able to visit the Sisters' cemetary, in the grounds of the Firhouse monastery, were prayers were shared, hymns sung including the Salve Regina, so dear to the Sisters' hearts and those present were reminded of one sister who has not died but was not present in Firhouse when the monastery closed - Sr. Raphael, who, through a special dispensation was allowed to leave Firhouse to work in the Missions in Peru, where she currently continues her work. This was a very uplifting event for the people of Firhouse and for the relatives of the sisters who were present. We hope the four surviving sisters who are still in Ireland, and Sr. Raphael in Peru, none of who could be present on the day, now realise the level of affection and esteem they enjoyed in Firhouse and that they will continue to enjoy though they are now in their new homes.
---
'
'
December 2017 - "Walk into The Light"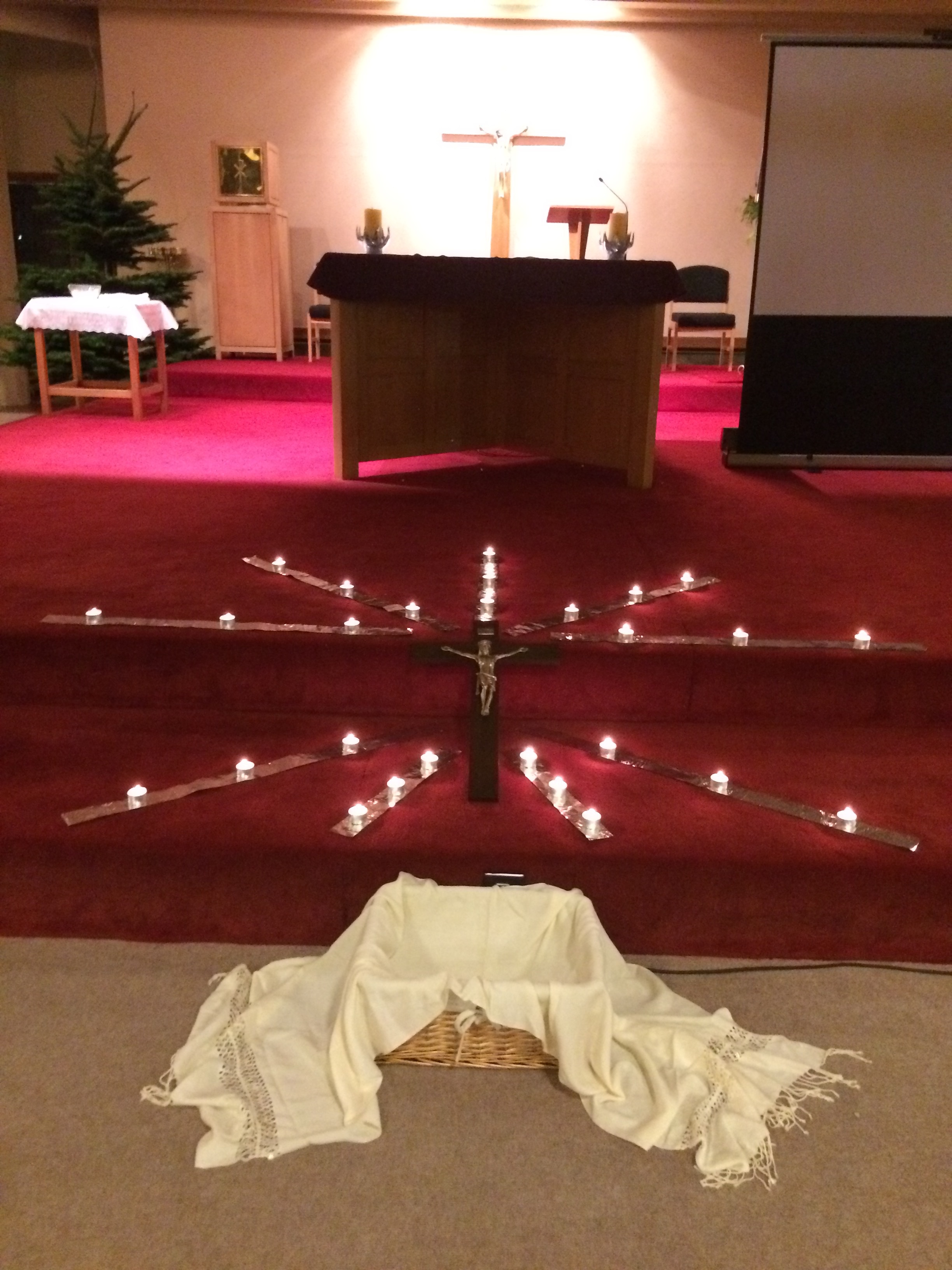 Are you carrying heavy burdens? Do you sometimes struggle to cope with daily life? On Sunday evening, 18th December at 7.30.pm, Firhouse Parish hosted a special family event. Parents may worry about many things like work/the lack of it, mortgages/the cost of living, relatives/friends who are ill, their children and what they may face in the world today, choices made that may have worked out badly . . . Teenagers and children may have real challenges in school, in relationships with family and peers, with the constant bad news from TV, the negative side of social media, what the future holds, etc. Such things can wear us down, no matter what our age and can even lead to poor health, especially if we feel unable to share them with someone who cares.
'
But we are not alone. Did you know that a burden that seems like a boulder to you is not even a pebble to God and that you could leave all your burdens with the Lord. Jesus himself said: "Come to me, all you who are weary and burdened, and I will give you rest. Take my yoke upon you and learn from me, for I am gentle and humble in heart, and you will find rest for your souls. For my yoke is easy and my burden is light." (Mt 11:28-30). Each family in the parish was invited to do the following: Find a pebble to symbolise all the burdens you or your family are carrying. Over a bite to eat, call to mind quietly (or, if it suits, discuss together as a family) the burdens or worries each one has. Use the pebble to represent these and choose one person to carry it. Wrap up well and set out walking together if possible, as a family, carrying the pebble to our parish church, which was welcoming, warm and bright on that winter's night.
'
Those who came then had the opportunity to rest a while in quietness before the Lord, to lay before Him all your burdens and ask for His help. After some quiet time, some reflections and some gentle songs one person was invited from each family to place their symbolic stone in a basket at the foot of the cross. People were free to leave after this but were invited to stay a while with the Lord if they wished.