Annual Pilgrimage to St. Colmcille's Well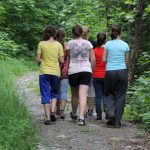 The annual pilgrimage to St. Colmcille's Well on Ballycullen Road took place on Sunday, 9th June.
The Firhouse Pilgrim Walk left the Main Entrance to the Church at 2.00.p.m. There was an Ecumenical Prayer Service & Family Picnic at 3.00.p.m. at the well. Cushions, rugs or folding chairs were recommended.
This was a very convivial and uplifting event.
[et_pb_quadmenu menu_id="40″ module_id="quad-styling" _builder_version="4.8.1″ _module_preset="default"]
[/et_pb_quadmenu]