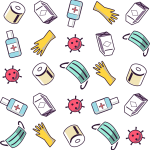 The protocols necessary to keep visitors to our church safe were implemented by Thomas, our Caretaker, in constant cosultation with Fr. Peter and with the cooperation of all parishioners.
Social distancing was facilitated by roping off every second pew and managing the movement of members of the congregation at Holy Communion time.
Sanitising stations were arranged at various convenient locations around the church, sanitizers were placed beside entrances/exits and people were encouraged to wear masks.
It was now possible to attend Mass safely, a very welcome development for parishioners.
[et_pb_quadmenu menu_id="40″ module_id="quad-styling" _builder_version="4.8.1″ _module_preset="default"][/et_pb_quadmenu]