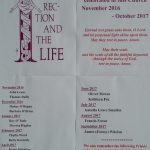 In November we arranged a memorial corner in our church, in memory of those who died in the previous year and whose funeral services took place here.
This memorial corner is located beside the statue of Our Lady of Mount Carmel near the main door of the church.
Here, people can pause to reflect, remember, say a prayer or light a candle for a loved one, friend or neighbour. May they all rest in peace!
[et_pb_quadmenu menu_id="40″ module_id="quad-styling" _builder_version="4.8.1″ _module_preset="default"][/et_pb_quadmenu]