2017 Sad Announcements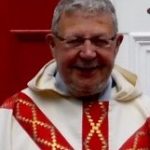 We were shocked and saddened by news of the sudden death of Fr. Pádraig Coleman, O.F.M., who served as chaplain in Firhouse parish for 11 years, from 2005 until last Autumn, 2016.
We were truly blessed to have Fr. Pádraig with us for these years and we miss him since his transfer to Sandymount last September.
We offer our condolences to his family and to his colleague Franciscans who no doubt miss him too. Ar dheis Dé sa bhflaitheas go raibh a anam.
Fr. Pádraig's funeral Mass took place at 10.30.a.m. on Monday 24th April in the Church of the Immaculate Conception (commonly known as Adam & Eve's Church) Merchant's Quay, Dublin, and was followed by burial in Shanganagh Cemetery.
[et_pb_quadmenu menu_id="40″ module_id="quad-styling" _builder_version="4.8.1″ _module_preset="default" background_color="#063760″ vertical_offset_tablet="0″ horizontal_offset_tablet="0″ z_index_tablet="0″ custom_css_before="/*content:%22Events Archive%22;||font-family: 'Lora',Georgia,%22Times New Roman%22,serif;||font-size:25px;||padding-top:20px;||color:white;||display:flex;||Justify-content:center;||font-weight:bold;||text-align:center;*/||||||||"][/et_pb_quadmenu]