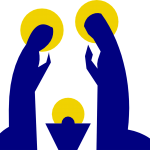 This year, as usual, the Christmas Family Mass, on Christmas Eve at 6.00.pm, was "packed," with adults and children "hanging from the rafters."
What an amazing celebration of the birth of Jesus (God with us) at Bethlehem, mingled with the excitement of expectation of children for the next morning, the satisfaction / relief of parents who had worked, saved, bargained and bought so that the next day would be special for their families.   Let us be thankful to God always that while family format may vary and life may be difficult.
He is always there in the middle with us.
[et_pb_quadmenu menu_id="40″ module_id="quad-styling" _builder_version="4.8.1″ _module_preset="default" background_color="#063760″ vertical_offset_tablet="0″ horizontal_offset_tablet="0″ z_index_tablet="0″ custom_css_before="/*content:%22Events Archive%22;||font-family: 'Lora',Georgia,%22Times New Roman%22,serif;||font-size:25px;||padding-top:20px;||color:white;||display:flex;||Justify-content:center;||font-weight:bold;||text-align:center;*/||||||||"][/et_pb_quadmenu]