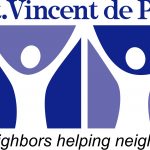 The Annual St. Vincent de Paul Christmas Appeal replaced the Share collection on the weekend of 7th/8th December.
This is a vital source of funding for the local conference of SVP for Christmas and throughout the year.
It's volunteers are always very grateful for the wonderful support they have received over the years from this parish.
[et_pb_quadmenu menu_id="40″ module_id="quad-styling" _builder_version="4.8.1″ _module_preset="default"]
[/et_pb_quadmenu]