2017 Sad Announcements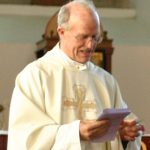 We were deeply saddened by news that, after a long illness that he bore with great dignity, our previous parish priest, Fr. Colm Matthews has died.
Fr. Colm served as parish priest in our parish from 1995 to 2004 before moving to Holy Rosary parish nearby.   Having served previously as army chaplain in the Congo and spent time in the mission fields in Chile, Fr. Colm brought many gifts to our parish when he came here.   He is fondly remembered by everyone who knew him.
Ar dheis Dé go raibh a anam.Fr. Colm's Funeral Mass took place at 10.00.a.m. on Tuesday 2nd May in Holy Rosary Church, Ballycragh, his final parish, where he served as a curate after leaving Firhouse.