Closure of Carmelite Monastery Firhouse, 1827 – 2017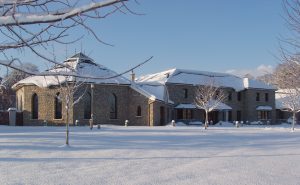 In 1827, two years before Daniel O'Connell won Catholic Emancipation for the people of Ireland the Carmelite Sisters from Clondalkin came to Firhouse and formed a Convent in the house that now gives its name to the area. Sadly, during the summer of 2017, after 190 years, the Convent has finally closed.
Over the years the Sisters served many roles – as an enclosed contemplative order, providing primary school education, providing parish Mass in the fledgling parish of Firhouse and always providing prayer for people in the surrounding area and beyond.
Despite being enclosed the Sisters had a close relationship with the children of the parish over the years and during school holidays and free days there was a constant stream of little visitors coming to their door "to see the nuns." For many years all the children who received their First Holy Communion in the parish were invited to come to the Convent the following week, all dressed in their finery to meet all the Sisters and celebrate this spiritual milestone.
In recent years, due to decline in vocations and the ageing process their numbers dwindled until there were only four Sisters left, Sr. Breda, Sr. Marie and Sr. Ann and Sr. John. These have now joined other Carmelite convents where we hope they will be really happy.
Considering that the Convent in Firhouse was their home and the Carmelite Community was their family for their entire adult lives these changes must be really traumatic for the Sisters. Now, perhaps, we can repay them somewhat for the many years that they prayed for all of us by offering heartfelt prayers for them.
[et_pb_quadmenu menu_id="40″ module_id="quad-styling" _builder_version="4.8.1″ _module_preset="default"][/et_pb_quadmenu]