April 2017 - Death of Fr. Coleman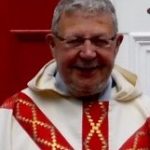 We were shocked and saddened by news of the sudden death of Fr. Pádraig Coleman, O.F.M., who served as chaplain in Firhouse parish for 11 years, from 2005 until last Autumn, 2016. We were truly blessed to have Fr. Pádraig with us for these years and we miss him since his transfer to Sandymount last September. We offer our condolences to his family and to his colleague Franciscans who no doubt miss him too. Ar dheis Dé sa bhflaitheas go raibh a anam.
Fr. Pádraig's funeral Mass took place at 10.30.a.m. on Monday 24th April in the Church of the Immaculate Conception (commonly known as Adam & Eve's Church) Merchant's Quay, Dublin, and was followed by burial in Shanganagh Cemetery.
April 2017 - Death of Fr. Matthews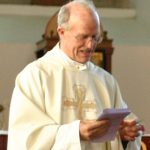 We were deeply saddened by news that, after a long illness that he bore with great dignity, our previous parish priest, Fr. Colm Matthews has died.
Fr. Colm served as parish priest in our parish from 1995 to 2004 before moving to Holy Rosary parish nearby. Having served previously as army chaplain in the Congo and spent time in the mission fields in Chile, Fr. Colm brought many gifts to our parish when he came here. He is fondly remembered by everyone who knew him. Ar dheis Dé go raibh a anam.
Fr. Colm's Funeral Mass took place at 10.00.a.m. on Tuesday 2nd May in Holy Rosary Church, Ballycragh, his final parish, where he served as a curate after leaving Firhouse.
September 2017 - Death of Jimmy Whelan
Sadly, the death has occurred of Jimmy Whelan, our much-loved, long-serving (22 years) and retired sacristan. Jimmy was very involved in the parish and the local community over the years, as was his wife Bridie, R.I.P. He was a regular contributor to parish newsletters, with many fascinating historical accounts of the area before it became built up. Jimmy received the Benemerenti Medal, a rare honour awarded by the Pope to members of clergy or laity for service to the Catholic Church (see below). He will be sadly missed not only by family and friends but also more generally in the parish.
Jimmy's funeral Mass took place at 10.00.a.m. on Sat 16th September. Ar dheis Dé go raibh a anam.
Death of Fr. Martin Murnaghan

At Mass on Monday 14th November Fr. Peter announced the sad news of the sudden death in Kenya of Fr. Martin Murnaghan.
Fr. Martin retired from parish work in Sandymount this autumn and came to live in Firhouse. From here he went to Kenya just a few weeks later to undertake six month of active ministry. He hoped to do this each year. God gave him the health and the energy. He was not in active ministry in Firhouse, but he helped out when he could for the few weeks he was with us; and in that time his gentle demeanour and winning smile endeared him to us. We were looking forward to his return in April.
While he hoped to complete six months in Kenya and then return to Ireland, clearly the Lord had another plan and called him home, not to Ireland but to Heaven itself. We offer our condolences to Fr. Martin's family on their loss and to the people of Sandymount, his last parish, in their sadness. Ar dheis Dé go raibh a anam.
Fr. Martin's funeral took place on Monday 21st November at 12.00. noon in St. Mary's Church, Haddington Road, Ballsbridge, Dublin 4.
Other 2017 Announcements and Events
Not One Benemerenti Medal but Two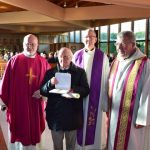 While the Benemerenti Medal is a rare honour awarded by the Pope to members of clergy or laity for service to the Catholic Church, it is a source of great joy and pride for our parish that two of our parishioners have received this award.
One is Jimmy Whelan; our much-loved, long-serving (22 years) and now retired sacristan. Jimmy's contribution to our parish over the years has been immense. He is pictured with current parish priest, Fr. Peter Reilly, previous parish priest Fr. Paddy Madden, and previous parish chaplain, Fr. Padraig Coleman R.I.P.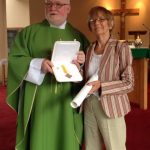 The other deserving recipient of this award is Nuala O'Toole. Nuala has been a faithful servant of this parish since its foundation and has been involved in various ministries and on various active committees over the years. Equally happy with a "Martha" or a ""Mary" role, whatever she undertakes gets done. She has always been an enthusiastic, positive, dedicated and inspirational and above all a faithful figure. She is pictured with our parish priest, Fr. Peter O'Reilly.
Closure of Carmelite Monastery Firhouse, 1827 – 2017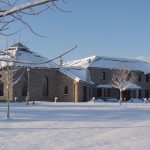 Closure of Carmelite Monastery Firhouse, In 1827, two years before Daniel O'Connell won Catholic Emancipation for the people of Ireland the Carmelite Sisters from Clondalkin came to Firhouse and formed a Convent in the house that now gives its name to the area. Sadly, during the summer of 2017, after 190 years, the Convent has finally closed.
Over the years the Sisters served many roles – as an enclosed contemplative order, providing primary school education, providing parish Mass in the fledgling parish of Firhouse and always providing prayer for people in the surrounding area and beyond.
Despite being enclosed the Sisters had a close relationship with the children of the parish over the years and during school holidays and free days there was a constant stream of little visitors coming to their door "to see the nuns." For many years all the children who received their First Holy Communion in the parish were invited to come to the Convent the following week, all dressed in their finery to meet all the Sisters and celebrate this spiritual milestone.
In recent years, due to decline in vocations and the ageing process their numbers dwindled until there were only four Sisters left, Sr. Breda, Sr. Marie and Sr. Ann and Sr. John. These have now joined other Carmelite convents where we hope they will be really happy.
Considering that the Convent in Firhouse was their home and the Carmelite Community was their family for their entire adult lives these changes must be really traumatic for the Sisters. Now, perhaps, we can repay them somewhat for the many years that they prayed for all of us by offering heartfelt prayers for them.
Phase II of Refurbishment Work Complete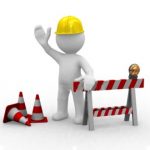 We now have a universal-access toilet beside the main entrance porch of the church. In addition, the nearby meeting rooms were upgraded to make them more comfortable and more suitable for evening activities for smaller groups. A kitchenette was also added.
This follows the recent replacement, for safety reasons, of the low level glass in the church, the reconstruction of the steps at the entrance nearest to the shopping centre, improving the  lighting in the altar area and other minor works. These improvements enable us to better meet the needs of parishioners and we are grateful to you, our parishioners, as well as our fund-raising and finance committees for making all this possible.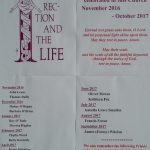 In November we arranged a memorial corner in our church, in memory of those who died in the previous year and whose funeral services took place here.
This memorial corner is located beside the statue of Our Lady of Mount Carmel near the main door of the church.
Here, people can pause to reflect, remember, say a prayer or light a candle for a loved one, friend or neighbour. May they all rest in peace!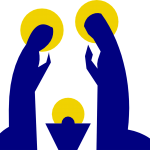 This year, as usual, the Christmas Family Mass, on Christmas Eve at 6.00.pm, was "packed," with adults and children "hanging from the rafters." What an amazing celebration of the birth of Jesus (God with us) at Bethlehem, mingled with the excitement of expectation of children for the next morning, the satisfaction / relief of parents who had worked, saved, bargained and bought so that the next day would be special for their families. Let us be thankful to God always that while family format may vary and life may be difficult He is always there in the middle with us.
Church of Our Lady of Mount Carmel