Announcements and Events Archive
Please see earlier 2020 Announcements and Events below; and you might also be interested in viewing some of the archived items in recent years.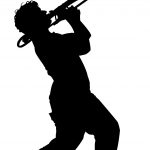 The Garda Band presented an evening of musical entertainment in the Church on Thursday 30th January.
Tickets at just €10.00 were very good value, with all proceeds going to parish funds.
Several members of the Gárda Band had learned their music with the Rathfarnham band and so were no strangers to the Firhouse area.
A large crowd enjoyed this very good night.
Annual Mass of Remembrance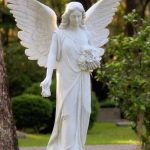 The Annual Mass of Remembrance for students and staff of Firhouse Community College took place on Monday 3rd February at 7 p.m. in the Church.
It was well attended and much appreciated by those present.
The heart-rending list of deceased students and staff members was read to the hushed congregation. We don't know the day nor the hour . . .
Due to Covid 19, Stations of The Cross go Online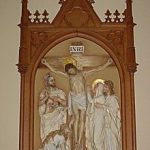 Restrictions due to Covid 19 began during Lent.  The Wednesday morning Stations of the Cross continued after 10.00.a.m. Mass and once the restrictions came in this continued, live-streamed.
Parishioners in a survey had indicated that if Stations of the Cross were conducted in the evenings the preferred evenings would be Tuesdays.
This had already commenced before the lockdown but once the restrictions began it also moved online and continued each Tuesday evening of Lent for those who could not avail of it in the mornings due to work, working from home or for other reasons.
Due to Covid 19, Easter Ceremonies go Online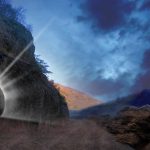 Due to the coronavirus parishioners could not participate in the normal way in Easter Ceremonies. However, the blessing of the palms on Palm Sunday and the various liturgies of Holy week still went ahead.  Parishioners could only participate from a distance, online via the parish webcam.
What a great blessing that is.
Fr. Peter's foresight when having it installed and his determination to celebrate the Easter liturgies in as near-normal a fashion lessened the negative impact of the virus for many parishioners.
Venerable Edel Quinn Prayer Meetings Suspended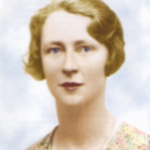 When this monthly prayer meeting took place on Tues. 25th February at 8p.m. in the Venerable Edel Quinn room, part of the Resource Room at the back of the church, little did we think that it would be the last such meeting for months due to the Covid 19 lockdown.  Regular participants really v alue this monthly hour of music, meditation and prayer and really miss it.
After the full lockdown eased one subsequent gathering was held but for safety reasons this had to take place spread out in the gathering area at the back of the church. This was welcome though not the same. However, level 3 restrictions came in after this so these meetings had to be suspended once again.
We look forward to their return as soon as possible.
Coronavirus Impact – Closure
The church missalette of 17th May included the following notice:
Parish Office closed until further notice.
Church will be open for private prayer:
Monday-Saturday 10.30.a.m.-12.00. noon.
(Prayer Service on Tuesday 10.00.a.m.)
(Eucharistic Adoration Friday 10.30.a.m.-11.30.a.m.)
Sundays 11.50.a.m. – 1.00.p.m.
Please use the main entrance to the Church.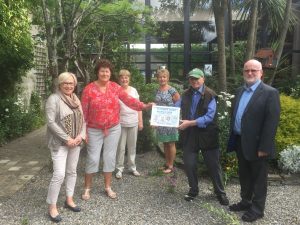 Thank you
Firhouse Active Age ladies Club & Firhouse ladies Pitch & Putt Club both based in Firhouse Community Centre ,
for making and supplying Face Masks to help keep us safe at this time.
Making the Presentation to Bernie Brophy and Barbara Sheridan:
Fr. Peter, Martin the Artist, Jackie, and Marie representing the groups in the Parish.
The Holy Father Pope Francis presided over an extraordinary global celebration (Statio orbis) of prayer on 27 March 2020.
The Holy Father's address is called URBI ET ORBI. It is very unusual for this to happen. URBI ET ORBI normally only happens at Easter and Christmas.
Coronavirus Impact – First Holy Communions and Confirmations – 3 May
In response to the ongoing situation with the Coronavirus, Archbishop Diarmuid Martin has sent the following communication to parishes on 15th April 2020:
"We can only begin to speak of timetables for these when it will be possible once again to hold large gatherings of people, especially children and this is unlikely for some months."
For more information on this, please check out the Archdiocese website via the following link: https://www.dublindiocese.ie/update-on-arrangements-concerning-coronavirus/
Notice Indicating Light at the end of the tunnel -plea for Volunteers – 14 June
As public Masses are set to get underway, we will need several volunteers to assist with Cleaning and Stewarding and other roles and responsibilities to help our parish return to public Masses and celebrations of the Sacraments.
The "major need" is for parishioners to look after the Church and make it a safe place to return to. If you can commit to at least one hour per week, please contact the Parish Office before next Wednesday 17th June either by phone or by email.
Details available on Parish website.
28 June – Notice of Reopening
Parish Office reopens, opening hours:
Monday to Friday 10.30.a.m. – 3.00.p.m.
Only 1 person in at a time please.
Church Reopens for Public Mass
The Church reopens on Monday for Public Mass.  We resume with the normal schedule:
Weekday Mass 10.00.a.m. (Prayer Service on Tuesdays)
Vigil Mass Saturdays at 6.00.p.m.
Sunday Masses 9.30.a.m. & 11.00.a.m.
Church Doors open half an hour before Mass begins.
Please follow the Steward directions
Precautions and Protocols
The protocols necessary to keep visitors to our church safe were implemented by Thomas, our Caretaker, in constant consultation with Fr. Peter and with the cooperation of all parishioners.
Social distancing was facilitated by roping off every second pew and managing the movement of members of the congregation at Holy Communion time.
Sanitising stations were arranged at various convenient locations around the church, sanitizers were placed beside entrances/exits and people were encouraged to wear masks.
It was now possible to attend Mass safely, a very welcome development for parishioners.
Long-Awaited – The Sacrament of Confirmation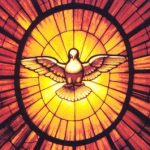 Congratulations to all the children (two class groups) who were Confirmed on Saturday 5th September.
Thank you to all who did so many tasks to make it such a wonderful celebration.
On Saturday 12th September we will celebrate the Sacrament of Confirmation for the remaining children (two further class groups).
13th September – Thank you to Ministers of The Eucharist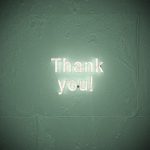 The Parish Pastoral Council wishes to sincerely thank our lay Ministers of the Eucharist for setting aside their natural concerns in relation to the Covid 19 pandemic and continuing to distribute Holy Communion at Masses in the parish since the end of the lockdown using the new and necessary protocols for the safety of all who receive Holy Communion.
We are very grateful for what you do and the care with which you do it on behalf of all of us. Thank you!
Further Restrictions – No Public Mass
In late September, due to the rising number of cases of Covid 19 in the country Public Mass was restricted again.
This was a huge disappointment since so many people, particularly Fr. Peter and Thomas, our Caretaker, had worked so hard to make our church a very safe place to be.
The Mass schedule continued the same as normal except that the 9.30.a.m. Mass on Sunday morning was discontinued while the Government Directive was in place.
Bethany Bereavement Support Group – A Special Prayer Service of Remembrance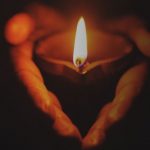 This live-streamed service took place on Monday 2nd November 2020 at 7.00.p.m.
This Special Prayer Service of Remembrance was offered for all those whose Funeral Liturgies took place in our Parish during the past year and also included all the deceased Family and Friends of parishioners in the prayers.
This was an event that provided solace and consolation to many.
First Communions still "On Hold"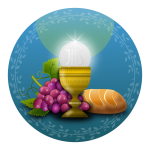 Unfortunately the First Communion ceremonies that were planned for the spring did not happen due to Covid 19 restrictions.
This was very disappointing for the children, their families, their teachers and our parishioners. After the easing of restrictions in the late summer tentative plans were put in place so that after the Confirmations we could have the First Communions.
However, the further tightening of restrictions put a halt to that plan. As Christmas approached it was our hope that when the next loosening of restrictions would take place the children could at last receive their First Holy Communion.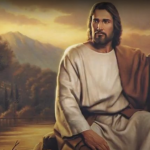 "Life in Christ" is a preached retreat on video by Capuchin priest, Fr. Raniero Cantalamessa, preacher to the Papal household for Pope Francis and the previous two Popes.
"Life in Christ" consists of a series of 8 video talks of about half an hour each that are uplifting and informative. It is suitable for anyone who takes their faith seriously and would like to support it in these challenging times.
This series began in November, presented via "Zoom" on a weekly basis for parishioners from Firhouse and Knocklyon. Only those with access to a smart phone, tablet, computer or laptop could take part – a sign of the times. Sessions included discussion, reflection and prayer.
During 2020 finances of many organisations "took a big hit" including parishes like ours. Not only did it become difficult to manage receipt of donations for the parish itself but organisations like St. Vincent de Paul, Crosscare, Trócaire etc. that normally rely on parishes to facilitate their fundraising, took a huge hit as numbers in churches plummeted due to the Covid 19 restrictions.
Innovations like the diocesan, and more recently parish website "Donate" buttons as well as preparation of special envelopes for donations and secure boxes to receive them have helped.
Time will tell if these developments restore the finances of the various organisations and our parish to the level they enjoyed before the outbreak of the Covid 19 virus.
Church of Our Lady of Mount Carmel