Please see current and recent Announcements below
Sunday 25 July 2021
Pope Francis' Message for the World Day for Grandparents and the Elderly
Dear Elderly Friends,
"I am with you always" (Mt 28:20): this is the promise the Lord made to his disciples before he ascended into heaven. They are the words that he repeats to you today, dear grandfathers and grandmothers, dear elderly friends. "I am with you always" are also the words that I, as Bishop of Rome and an elderly person like yourselves, would like to address to you on this first World Day of Grandparents and the Elderly. The whole Church is close to you – to us – and cares about you, loves you and does not want to leave you alone.
We keep all Grandparents and the Elderly in prayer this weekend.
Click here to visit Archdiocese of Dublin page with full message from Pope Francis, and resource link.
Archdiocese of Dublin website: www.dublindiocese.ie
25 July 2021
"Koins for Kids Ireland"
This is a small voluntary charity putting all their efforts into providing a "Pediatric MRI Scanner" for The New Children's Hospital when the building is complete.
www.koinsforkids.ie collects out of date, obsolete, damaged currencies and one and two cent coins.
If you have any of this unwanted currency please leave it into the Parish office.
25 July 2021

.
Thank God and sincere thanks also to our many listeners and supporters as RADIO MARIA IRELAND continues to grow. As an Irish-run Catholic Talk-Radio Station we enjoy commercial free broadcasting – Prayer, Catechesis, Uplifting music, Talks, Interviews and Testimonies – do join our growing faith family!
Why not drop a line to our Priest Director, Fr. Eamonn McCarthy, or send in your prayer or song requests to us at Radio Maria Ireland, St. Anthony's Business Park, Ballymount Road, Dublin 22.
18 July 2021
Theology of The Arts. Does The Church Need Art?
The Priory Institute week-long online Summer School will run from 22-27 August. The course includes six recorded presentations and is very flexible as it is delivered entirely online.
Find out more and register on prioryinstitute.com
11 July 2021
Summer Dues/Offerings
Summer Dues / Offering envelopes are available on the tables inside the doors of the Church.
Dues / Offerings may be left into Presbytery 1, the Parish Office, or the boxes inside the Doors of the Church.
Your continued support is greatly appreciated.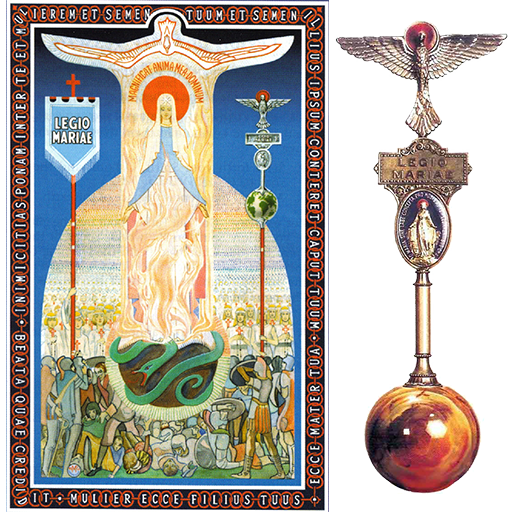 11 July 2021
The Worldwide Legion of Mary
The worldwide Legion of Mary is celebrating its Centenary this year. It was founded by Servant of God, Frank Duff, in Dublin on the 7th September 1921.
The Legion has a stand on display this weekend, which gives some background info on Frank Duff. He was a man of great faith, which he put into action with courage and tenacity. His prophetic insight reclaimed the layperson's place in the Church, 40 years before Vatican II.
On the 7th November 1980, Frank Duff died and is buried in Glasnevin Cemetery. His cause for canonization is actively being progressed.
Do take a prayer leaflet to seek his intercession.
27 June 2021
Summer Dues / Offering
Dear Parishioner,
The last year has been a very strange one and much of what we have taken for granted in the past, has changed. One of the areas where the impact of lower numbers and ongoing months of Church closures has had an effect is on the first collection which supports the priests of the Parish and the sick and retired priests of the Diocese.
We have been very grateful for your support both online and by putting your offerings in the letterboxes in the Church. This, with your commitment to the Christmas and Easter Dues, has enabled the Common Fund to support the Priests here and in other Parishes.
However the Common Fund, which is made up of the first collection, Christmas and Easter dues, is at an all time low and we need to build it up. We are introducing a 'Summer Dues' to help with this. It will be taken in the same way as the Christmas and Easter Dues and the Parish will benefit from the tax relief scheme on this contribution.
We are very aware that everyone's situation has changed and we appreciate all your support. If you are able to support this new 'Summer Dues' we and the other priests in the Diocese would be very gratefuI. We hope that you get to enjoy some holiday time over the summer and meet up with family and friends. We wish you every blessing and pray that things return to some sense of normality this year.
Fr. Peter Reilly
20 June 2021
Team Hope Appeal for Shoebox Charity
Team Hope would be grateful for any donations of previously loved Barbie/Sindy dolls or dolls of a similar size, wool/small soft toys and costume jewellery.
Donations can be left into the Parish office.
Church Cleaning
Could you spare an hour on a Tuesday morning, at 11 am, to help vacuum and shine the church?
Many hands make light work.
The Church is now open for Public Mass
To view Message from Fr Peter with arrangements and times, please click here
Archdiocese of Dublin – Message from Archbishop Dermot Farrell
2021 Sacraments of First Holy Communion and Confirmation
Please see recorded message by Archbishop Dermot Farrell to the parents of children due to receive the sacraments of First Holy Communion and Confirmation this year.
Daily Prayer
Please visit the Pray As You Go website which offers a Daily Prayer each day. It also provides a wide range of prayer tools, music, readings and commentary, and other useful options which you might find helpful.
Monday Rosary
The Monday rosary is on zoom. If you would like to join in please send an email to:
11 July 2021
Pilgrimage to Medjugorje
A group from the parish will be joining a pilgrimage from Wednesday 20th to 27th October incl. (presuming that restrictions continue to ease over the coming months).
Please contact Ray Ryan 087 9195012 for details.
6 June 2021
Marian Pilgrimages
"Marian Pilgrimages have released their pilgrimage schedule for 2021 and 2022 to Lourdes, Medjugorje, Fatima, Italy & Holy Land.
For more information or to register your interest please visit www.marian.ie or ring Marian Pilgrimages on 01 878 8159
Church Court Yards
Could you spare an hour on a Monday morning
at 10:30 am – to help clean and tidy the
four courtyards.
We would appreciate any help you can give us.
Many hands make light work.
Need Help during the Covid Restrictions?
If you are elderly, self-isolating or disabled you may not be able to get out for necessary supplies. We have volunteers who are willing to help.
If you need help please contact the parish office at: 01–452 4702 with your name, address and phone number.
Accord Dublin
ACCORD Dublin has a new website.
For Sacramental Marriage Preparation Courses, or for Marriage and Relationship Counselling please visit:
Plenary Indulgence
The Holy Father Pope Francis presided over an extraordinary global celebration (Statio orbis) of prayer on 27 March 2020.
The Holy Father's address is called URBI ET ORBI.  It is very unusual for this to happen.  URBI ET ORBI normally only happens at Easter and Christmas.   More information.
9 May 2021
Year of St Jospeh
A series of  'New World of Mary' Conferences are organised during lockdown by the young adult group, within the Legion of Mary.
The series have become popular for the interesting talks given by both clerics and layfolk, now available on YouTube.
One to be recommended in the 'Year of St. Joseph', is an interesting insight into this beloved but silent father figure:  'Blessed Be St Joseph, Her Most Chaste Spouse.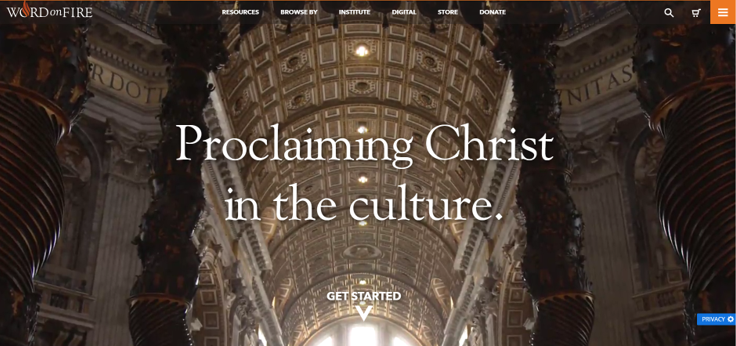 Word on Fire
We have put up a link on our Faith Supports page to the Word on Fire website. This website supports the work of Bishop Robert Barron and reaches millions of people to draw them into – or back to – the Catholic faith.
The content on the Word on Fire website is very extensive and the site is certainly worth a visit.
Click here to visit our Faith Supports page.