See important and recent announcements below.
Thank you
Firhouse Active Age ladies Club & Firhouse ladies Pitch & Putt Club both based in Firhouse Community Centre , for making and supplying  Face Masks to help keep us safe at this time.
Making the Presentation to Bernie Brophy and Barbara Sheridan:
Fr. Peter, Martin the Artist, Jackie, and Marie representing the groups in the Parish.
Reopening of Church for Worship
BEFORE MASS CAN START, WE NEED LOADS OF VOLUNTEERS!
GENERAL ARRANGEMENTS
The COVID-19 Parish Support team has been set up and meets regularly and has surveyed the Church.
The Masses on Saturday Evening and Sunday morning will resume, 6 pm (Vigil), 9.30 am & 11 am.
The 10 am Mass on weekdays will return.
The Church will only be open when it is safe to do so when and we can safely comply with what we are asked to do.
The Sunday Obligation remains dispensed with, meaning you do not have to go to Mass on Sunday.
Parish Webcam will continue as during the Pandemic.
While there will be music hopefully from a soloist and musician at 11 am Mass on Sunday, full choirs cannot attend initially.
Church doors will open 30 minutes before the start of each Mass.
Missalettes will be available, and you may take it home with you, or they will be removed after each Mass. Fresh missalettes will be available for the next Mass.
There will be no Collection Bags, receptacles will to be available in church for all envelopes.
For Health and Safety reasons our Toilets will be closed for the time being ,so please attend the Toilet before leaving home.
WHO CAN ATTEND?
A limited number of places will be reserved for Anniversary / Months Mind Masses.
Parishioners will be asked to attend Mass no more than once per week for the first two weeks initially.
COVID PROTECTION / SELF & OTHERS
It is being made clear to us that not everybody wishes to attend Mass immediately.
Anybody who is feeling unwell with flu like symptoms should not attend Mass.
Follow correct respiratory etiquette – cover your face while coughing or sneezing.
Please comply with the instructions of stewards at all times.
There is no longer any such thing as your 'usual seat' – this will be difficult.
Those who do not obey the stewards instructions will be asked to leave.
ENTERING AND LEAVING SEATS / CHURCH
Entry to the Church by Main Entrance Door only.
Please sanitize your hands on entering the Church.
Maintain the correct social distance at all times.
Stewards will show parishioners to their seats, filling the Church from the top of each Aisle.
When the Church has reached capacity, no further members of the congregation will be admitted.
All members of the congregation are asked to be in their seats five minutes before the start of Mass.
Congregation will be asked to leave seat by seat using all doors.
RECEIVING HOLY COMMUNION
Eucharistic Ministers MUST wear provided face coverings and sanitize hands thoroughly.
For the time being, those who wish to receive Holy Communion are requested to do so only on the hand.
If needed, please follow the instructions of the stewards at Holy Communion time and stand on only clearly marked socially distanced places.
One-way system only for Holy Communion, up by the Centre Aisle and return by the window Aisles in each section of the Church, it will be single file approaching for Holy Communion.
The Holy Father Pope Francis presided over an extraordinary global celebration (Statio orbis) of prayer on 27 March 2020.
The Holy Father's address is called URBI ET ORBI.  It is very unusual for this to happen.  URBI ET ORBI normally only happens at Easter and Christmas.   More information.
2019 Story Telling Competition Winners
Scoil Treasa, Church of Our Lady of Mount Carmel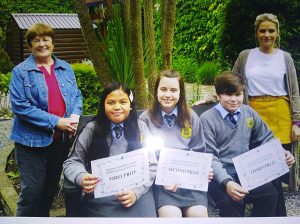 Alessandra Libago
Megan O'Brien
Luca Coletti
Pictured with (left to right) Marie Whelan and Amy Proctor
Congratulations to all who took part.
Church of Our Lady of Mount Carmel