See important and recent announcements below.
There is no Public Mass at present.  Mass schedule is the same as normal except for the 9.30 am Mass on Sunday, while the Government Directive of no Public Mass is in place.
Mass Times until further notice:
Monday – Saturday 10 am / Prayer Service on Tuesdays
Sunday Vigil Mass on Saturdays at 6 pm, & Sunday Morning Mass at 11 am.
PRIVATE PRAYER
Church will be open for Private Prayer:
Monday- Friday 10.40a.m. (Approx) to 12 Noon
Saturday 10.40a.m. (Approx) to 11.30am
Sunday 11.50a.m. (Approx) to 1pm
Please use the main entrance to the Church.
(Eucharistic Adoration Friday 10.40 a.m. – 11.30 a.m.)
Note:  The Watch Mass Live option is now available.
However, please be aware that from time to time we are experiencing transmission problems which may affect the live broadcast.
We are working to have this rectified and apologise for any inconvenience.
Sacrament of Confirmation
The Sacrament of Confirmation took place at the 10:00 am and 12:00 noon Masses  on Saturday 5 and 7 September.
Thank you
Firhouse Active Age ladies Club & Firhouse ladies Pitch & Putt Club both based in Firhouse Community Centre , for making and supplying  Face Masks to help keep us safe at this time.
Making the Presentation to Bernie Brophy and Barbara Sheridan:
Fr. Peter, Martin the Artist, Jackie, and Marie representing the groups in the Parish.
The Holy Father Pope Francis presided over an extraordinary global celebration (Statio orbis) of prayer on 27 March 2020.
The Holy Father's address is called URBI ET ORBI.  It is very unusual for this to happen.  URBI ET ORBI normally only happens at Easter and Christmas.   More information.
2019 Story Telling Competition Winners
Scoil Treasa, Church of Our Lady of Mount Carmel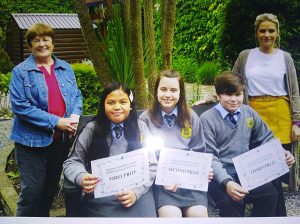 Alessandra Libago
Megan O'Brien
Luca Coletti
Pictured with (left to right) Marie Whelan and Amy Proctor
Congratulations to all who took part.
Church of Our Lady of Mount Carmel